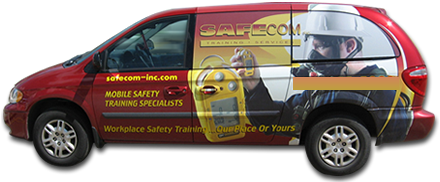 Your Complete Safety & Communication Source
| Mobile Training

MOBILE TRAINING IS OUR SPECIALITY
On-Site training at our clients' location is our speciality. We can deliver all of our training courses to your workplace anywhere. And we do mean anywhere. In the past several months besides traveling to local clients here in Edmonton, we have been to Fort Saskatchewan, Edson, Yellowknife and even Baffin Island! If you have a training requirement anywhere, we will see that you achieve it.
We can provide any training course to your office or worksite. Whether your group is large or small, call us if you are interested in having us come to you. We regularly provide training right across Alberta, so if your schedule is flexible, we can satisfy your training requirements within our regular runs and therefore avoid extra costs to you.

We can provide any of our training courses anywhere in Western Canada.
Let us know what you need and where and let us make it a reality.